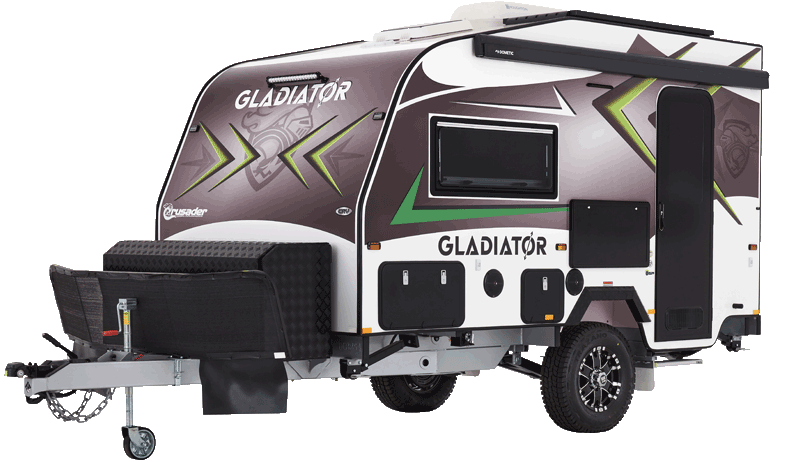 A tough little unit. All you need to get off the beaten track. It packs a powerful punch for its compact size. Comes standard with a lot of the features you would find in a high-end caravan, but at a cheaper price.
2
Shower
Toilet
Solar
For Those Who Like to Travel in Comfort and Style

You get a toilet, shower, kitchen, fridge, beds, TV, microwave and so much more. The Crusader CRV Gladiator is beautifully crafted from industry leading composite material so its strong and weather resistant. Stay safe, dry and comfortable in any conditions. Flexible bedding means you can easily make up a queen sized bed or two single beds on the spot.
Built for off-road, the Gladiator comes with independent suspension and a six-inch chassis. It can handle the more rugged terrain. It comes well equipped for free camping with dual solar, work lights, and a grey water tank. The Gladiator gives you the freedom to go just about anywhere. The Gladiator CRV from Crusader Caravans – GO adventure.
External Features
The Gladiator is not only extremely functional, it is beautifully made and fantastic looking. At just 2.2m wide the Gladiator fits down narrow bush tracks that most caravans can't access and because it's under 6 metres long from tip to tail, it's easy to tow and easy to store.
The front and roof is made from one continuous piece which delivers great structural strength. This also means your Gladiator is hail resistant and well sealed against water ingress.
Everything underneath is well protected with galvanised sheeting protecting both the water tanks and grey water tank. Tuffride 2.7 tonne independent suspension protects the caravan on those rough corrugated roads. The Gladiator also comes standard with an angled stone guard that helps protect it from stones thrown up by your vehicle. A 120 amp Lithium battery is mounted on the chassis.
Enjoy the great outdoors under the Gladiator's 3.5 metre wind out awning.